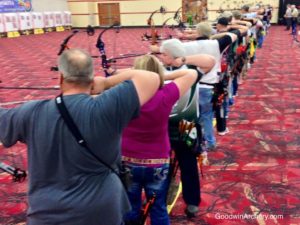 The Vegas Shoot is, simply put, the largest indoor archery shoot in the world. Take 3,500 archers, a prize purse of $450,000 in cash and scholarships, top archers from around the globe to vie for those prizes, and all the sensibilities and resources of a Vegas promoter, the Vegas Shoot is truly a contest of epic proportions.
As if that were not enough, along comes a Saturday-night addition – the World Archery Indoor World Cup.
What's a World Cup, you say?
The Archery World Cup is a multiple-stage competition administered by the World Archery Federation, formerly known as FITA (Fédération Internationale de Tir à l'Arc, which is French for "we decide how you shoot the arrows." ). Featuring competitions in both the indoor and outdoor seasons, the event series travels the globe through each season. The Archery World Cup now rivals the International Olympic Games as one of the preeminent archery competitions of our time.
This season's Indoor World Cup saw previous stops in Marrakesh, Bangkok, and Nimes. This fourth and final stage is the culmination of the season. World Archery rules require that World Cup contenders attend at least two World Cup stages, one of which must be the Vegas Shoot. This simply adds fuel to an already-blazing fire.
The first two days of the Vegas Shoot served as the qualification round for the Vegas World Cup – two lines of 30-arrow ends, shot against the "Vegas Target Face" (a slightly-modified version of the World Archery indoor 40-cm target face) and using NFAA rules. Finalists compete in match play qualification rounds, this time using World Archery Rules and standard 40-cm target faces. Competition is in two distinct categories – Recurve (Olympic) and Compound, with both Male and Female divisions.
This distinction and difference in rules and variants is an important one. The NFAA has adopted special rules for the Vegas Shoot, including the use of the special "Vegas Round" target face, which has the same 10-ring for both recurve and compound target shooters, and the "X" ring used for tie-breaks. In addition, NFAA Vegas rounds are shot at 20 yards, arrow diameters of up to .422 inches, and draw weights not to exceed 80 lbs.
By contrast, the Archery Cup round is shot using World Archery rules using the standard 40-cm indoor target face, which features the smaller "baby x" 10-ring for the compound shooters. Shooting distance is 18 meters (19.69 yards). Other restrictions include an arrow diameter not exceeding 9.3 cm (.359 inches) and a draw weight not to exceed 60 lbs.
These distinctions, although subtle, are enough to warrant some preparation in advance – at the very least, some clicks on the sight adjustment.
Vegas Shooter and World Cup Silver Medalist Steve Anderson found this out the hard way, when he found himself drawing a place in the World Cup finals. Only one problem – he did not bring his smaller-diameter arrows compliant with World Archery requirements. Fortunately, the generosity of the archery community outshines its competitiveness, and Steve was able to borrow compatible arrows from Denmark's Mike Schloesser. Also known as "Mister Perfect", Mike Schloesser holds the distinction of being the first archer to ever shoot a perfect indoor round – 600 points.
Although arming oneself with "Mister Perfect's" arrows may seem like a sure ticket to victory, this is actually fraught with peril. Archers can spend weeks "tuning" their equipment, making adjustments and tweaks in both bow and arrow to arrive at that perfect combination of accuracy, speed, and repeatable performance. This meant that Steve was going into the round with a less-than-perfect setup tuned over a few hours of hasty work.
Shooting as a world-class shooter does, Steve rose to the challenge, eventually trumping the field through the qualification rounds. In the end, he fell short of Gold by only one point to Jesse Broadwater, last year's defending Vegas World Cup champion. The match was awesome to behold – let's just say that everyone's fingernails left the stadium well and truly trimmed.
And that's the true attraction that the World Cup events hold for any archery fan – the high drama and impeccable performances of the final Gold medal matches. Each of the matches featured back-and-forth match play, scored using World Archery rules. Those rules provide for fair and equitable play, but they equally provide for entertainment and spectacle. Given two well-matched archers, the crowd is guaranteed an edge-of-the-seat experience as the competition volleys from one side to the other. In all of the evening matches, the conclusions could never be forecast before the last of each 5-end round.
Add in the usual Vegas showmanship, a ton of prizes and promotions for the spectators (delivered by t-shirt gun, of course) and exciting play-by-play commentary and a frenzied and lively crowd, and any archery fan will feel that their sport is admired and respected by the world over.
This year's event did not fail to disappoint. Complete with rock music interludes and inflatable "boomer" noisemakers, I felt I was at a strange combination of NBA Basketball and a "My Precious Snowflake" youth archery tournament. Fans screamed for their favorites, burst forth with cheers for the 10-ring shots, and passed hushed and concerned "ooohs" for the 8-and-7 ring misses.
And this, archery fans, is what our sport needs. Our local shoots and tourneys can sometimes have the somberness and formality of a symphony concert. We need to be excited; moreover, we need others to watch and become excited with us. If archery is to continue as a world-class sport, it must excite and inspire everyone, especially the non-archers and the archers-to-be. And this World Cup event definitely delivered on those requirements!
The hardest part? Ending the night of fun and mayhem for much-needed rest, knowing that the third day of Vegas Shoot competition awaited each of the 3500 competitors the very next morning.
Special congratulations to this year's Gold Medal winners:
Women's Recurve – Song Jiyung, Korea
Men's Recurve – Oh Jin Hyek, Korea
Women's Compound – Tanja Jensen, Denmark
Men's Compound – Jesse Broadwater, USA
This article is fourth in a five-part series. Be sure to check back for more!